Call Answered: Rue McClanahan Interview: The Golden Girls' Blanche Devereaux
Sep 09, 2023
The interview below was originally published in 2009


Updated 2023:
Here is a Behind-The-Curtain story of how, in 2009, I got to interview the one & only Rue McClanahan, who played Blanche Devereaux on the NBC hit comedy The Golden Girls from 1985-1992.
I had been a fan of Rue's since I was a little kid watching her on Mama's Family in the early '80s. When she starred on The Golden Girls, I simply adored her. I became a big fan of hers. After the show ended, I continued to watch her on The Golden Palace & then her many made-for-TV movies that she starred in along with her guest starring roles on various television shows.
In 2001, I got to meet Rue, live in person, after seeing her in a performance of Roundabout Theatre Company's revival of The Women on Broadway. She was so nice! We talked for a few moments & she even took a picture with me inside the theatre lobby, which you weren't technically allowed to do.
Adam Rothenberg & Rue McClanahan, 2001, The Women on Broadway
Roundabout Theatre Company revival

In 2008, Rue was starring on Del Shores' dark-comedy Sordid Lives: The Series (alongside Olivia Newton-John, Leslie Jordan, Delta Burke, Caroline Rhea, Beth Grant, et al), on the newly launched gay channel, Logo. It was Logo's #1 series. After the first season, the show was abruptly cancelled & a campaign was started to help save the show. Unfortunately, the campaign did not help & the show did not get renewed.
In 2009, Del & some of the stars of the show, including Rue, Leslie, Caroline & Jason Dottley, went around the country performing A Sordid Comedy Affair. One of the stops on the tour was New York City's Comix Comedy Club on 14th Street.
I bought a ticket & before the event, I wrote a few letters to Rue McClanahan, Leslie Jordan & Caroline Rhea. By this time, I had already interviewed the Sordid Lives creator Del Shores & its series star, Jason Dottley.
In these letters, I told them how I have a website where I interview artists & performers. In each of their letters, I mentioned I would love to feature them on my website & their questions were below. I also listed a few of the other celebrities I had featured on my site including Del & Jason. I provided each of them with my e-mail address for them to write back to me.
The night of the show, I bumped into a friend of mine, who had purchased a VIP ticket, which gave him access to the after-party. He told me I should come with him, even though I didn't have a VIP ticket. So, after the comedy show ended, he & I walked into the VIP party. No one checked my ticket. It was amazing.
In addition to Del, Rue, Leslie, Caroline & Jason, Michael Urie (from ABC's Ugly Betty) was at the VIP party. I didn't know he was going to be there, but was excited to meet him. He was so nice. After talking with him, Del & Jason, I started to scout out the stars I had letters for.
When I finally got to Rue, there was a crowd around her. She was so gracious to each person who wanted to meet her. In addition to talking with them, she took photos with everyone. When it was my turn, I reminded Rue that we had actually met back in 2001 when she was starring on Broadway in Roundabout Theatre Company's revival of The Women. I asked to take another picture with her. Standing beside Rue was her manager Michael J. La Rue. I then started telling him about my website & that I had a letter for her with a request to interview her. Michael told me I needed to give him the letter now because they were getting ready to leave. He was literally walking towards the door.
Rue McClanahan & Adam Rothenberg, A Sordid Comedy Affair
May 2009, Comix Comedy Club, New York City

I managed to quickly give him the letter. This was May 2009. A few months went by & I hadn't heard anything from Michael or Rue. That July, I was on vacation with my parents. I decided to check my e-mail & what did I see...an e-mail from Rue's manager, Michael J. La Rue. I couldn't believe my eyes!
I opened the e-mail & there was Rue's answers to my questions. I was so overcome with joy, that I literally started to cry. One of my all-time favorite actresses took the time to answer MY questions. I don't remember if it was in that e-mail or a few years later when I saw Michael for the first time since the interview, but he told me that he had the letter with him & while they were driving around, he asked Rue the questions & then wrote her answers down.
I am forever grateful to Michael for helping make this interview happen!


Updated 2010:
Rue McClanahan passed away today, June 3, 2010 at the age of 76 after suffering a stroke. The interview below is from 2009 and a special Thank You to Michael J. La Rue who sat down with Rue to answer these questions and send them on to me. I am forever grateful!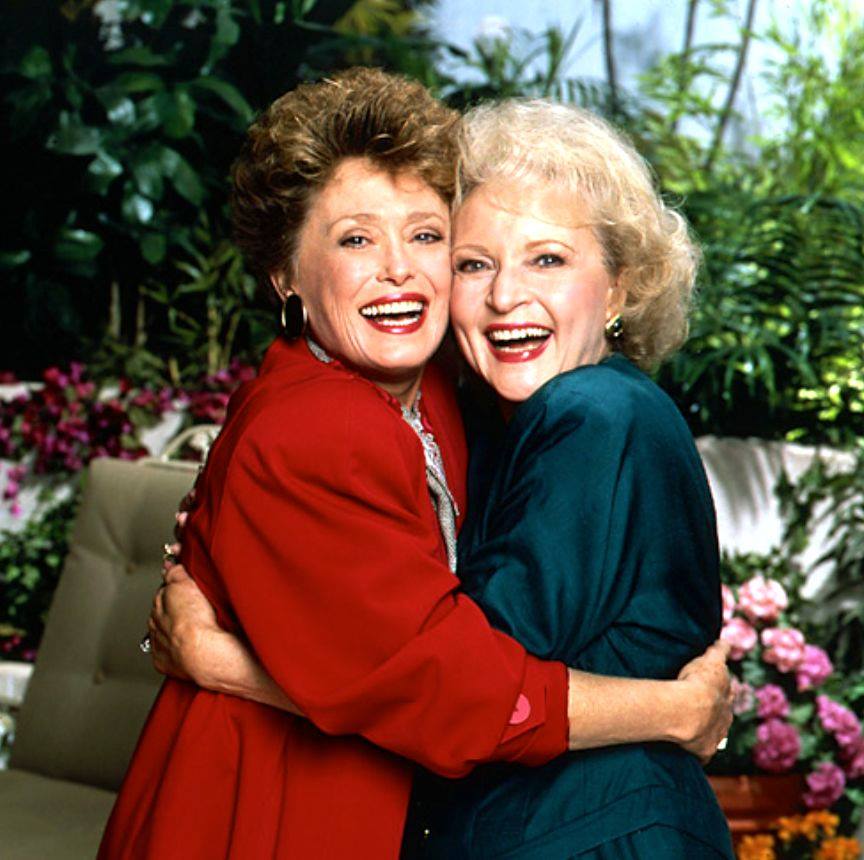 Rue McClanahan & Betty White on the set of The Golden Girls
Original 2009 Interview


In this interview, Rue answered my call to reveal:
Behind-The-Scene's story from The Golden Girls

Her inspirations

Best advice

Who she would dream about

Strange & Unusual talents

So much more




1. Who inspired you to become a performer? My Mother, Rheua-Nell McClanahan.
2. When did you realize you wanted to become a performer? I realized I wanted to be a performer when I was five and cast as the Mother Cat in my Kindergarten's performance of Three Little Kittens. I realized I actually could do it as a profession when I was 12; I figured out that the people I saw in movies were not from Hollywood, they were actually from other towns, even small ones, just like me.
3. Who is the one person you haven't worked with that you would like to? Harrison Ford.
4. Is there ever a time you thought about quitting? Heavens no!
5. What is the best advice a teacher ever gave you? Barney Brown, a man who directed me at The Pasadena Playhouse – and directors are often teachers, at least the good ones – he told me: "You'll never become great until you're willing to go out on a limb, much further than you feel comfortable, so far out it is dangerous, and then you learn to pull it back and refine it.


Rue McClanahan with her Emmy Award


6. If you could dream about anyone while you sleep, who would it be? It would be me actually, but only because there is a particular dream I want to experience again. In it, I was floating in the air, conducting a symphony that I had created; and I knew I was in a dream and wouldn't be able to bring the wonderful music from my subconscious out with me. I would love to have that dream again!
7. Favorite kind of shoes? Anything that is really comfortable.
8. Favorite holiday? Christmas.
9. Favorite color? Blue.
10. Favorite kind of sundae (ice cream flavor & topping)? A classic: vanilla ice cream with chocolate sauce.


Bonus Questions:
11. Do you have any strange or unusual talent that no one knows about? I can write backwards, upside down, and even upside down AND backwards.
12. What is the weirdest thing you've read about yourself and where did you read it? There was an article filled with lies about The Golden Girls' actors in the National Enquirer. Someone gave it to me on the way to the airport and I read that I had narcolepsy; that condition where you just fall asleep out of the blue. It also said that Betty White ate six cheeseburgers a day!
Whoever leaked to the press got it wrong. I have the ability to take naps anywhere, and often did, even behind the couch on the set of The Golden Girls, but I do not suffer from narcolepsy. And Betty White did not eat six cheeseburgers every day, she ate one.


Rue McClanahan
More on Rue McClanahan:
Rue McClanahan is an icon. She is an OBIE and Emmy Award winning actress. Not a decade has passed by without Rue being in the spotlight since making her stage debut in 1957 at the Erie Playhouse in Inherit The Wind. She studied with theatre legend Uta Hagen and made her Broadway debut in 1969 in Jimmy Shine starring Dustin Hoffman and in 1970 won the OBIE Award for her role in Who's Happy Now?
Rue McClanahan joined the soap opera Another World from 1970-1971. It was her guest starring role in 1972 on All In The Family, created by Norman Lear, that lead Lear to cast Rue in Maude (alongside Bea Arthur), where she stayed until the show ended in 1978.
In the 80s, Rue was on the hit show Mamma's Family starring Vicki Lawrence (and Betty White for a time) and then came The Golden Girls from 1985-1992, reuniting Rue with Bea Arthur and Betty White along with Estelle Getty. After the The Golden Girls ended, Rue continued playing "Blanche Devereaux" for one season on The Golden Palace.
The late '90s & new millennium has brought Rue back to the stage, starring in such hits as The Vagina Monologues, Roundabout Theatre's revival of The Women and the Broadway production of Wicked. She also released her autobiography, My First Five Husbands and The Ones Who Got Away and came back to series TV in Sordid Lives: The Series.
You can catch Rue September 19, 2009 at the Majestic Theatre in Dallas, TX as part of A Sordid Comedy Affair tour with creator Del Shores along with cast members Leslie Jordan, Jason Dottley, and Caroline Rhea.