Call Answered: Deana Carter Interview: There's No Limit at City Winery NYC
Sep 12, 2023
I have been a fan of 3-time Grammy nominated Country Music singer/songwriter
Deana Carter
since 1997.
She is known for such hits as "Strawberry Wine," "Did I Shave My Legs For This," "We Danced Anyway," "I'm Just A Girl" & "There's No Limit."
I got to see Deana in concert for the first time in 1998 in Lenox, MA. Deana came out on stage barefoot, and started singing. At that particular show, she debuted several songs from her then upcoming album, Everything's Gonna Be Alright. It was an amazing evening, one I remember to this day.
I am so excited to be seeing Deana again in concert this coming Monday in NYC at City Winery!
I feel so fortunate to have been given the opportunity to speak with one of my all-time favorite artists!
In this interview, Deana answered my call to reveal:
What she's looking forward to about her upcoming City Winery concert
Why she loves performing in smaller venues like City Winery
Connecting with her fans
Getting through tough times
What she still wants accomplish
So much more
Deana's music has been a soundtrack to my life, helping me celebrate the happy times & getting through those tougher moments.
Two of her songs in particular, "To The Other Side" & "Everything's Gonna Be Alright" made it onto a survival mix I made when I was going through a particularly rough time in my life. These tunes gave me the strength & hope I needed to move forward.
Deana will be performing at NYC's City Winery this Monday, September 18, 2023.
1. This September you are coming back to NYC to perform at City Winery. What made now the right time to return to NYC?
I love the City Winery venues & I love summer/fall in NYC. SO, it was the perfect match!
2. What was the first song you knew had to be included in this concert? All of my singles/familiar songs for the folks coming & maybe a couple new ones. It is the perfect environment to try new songs.
3. Why does this song mean so much to you? Familiar songs: It is so important to never leave out the songs that got you here. New songs: It is equally important to be vulnerable enough to play new material.
4. What do you like about performing at a more intimate venue like City Winery as compared to an arena or music festival? I love the connection & intimacy with the crowd. I worked at Zanies comedy club in Nashville before my record deal & I learned a LOT from them…that the rapport with the audience is paramount.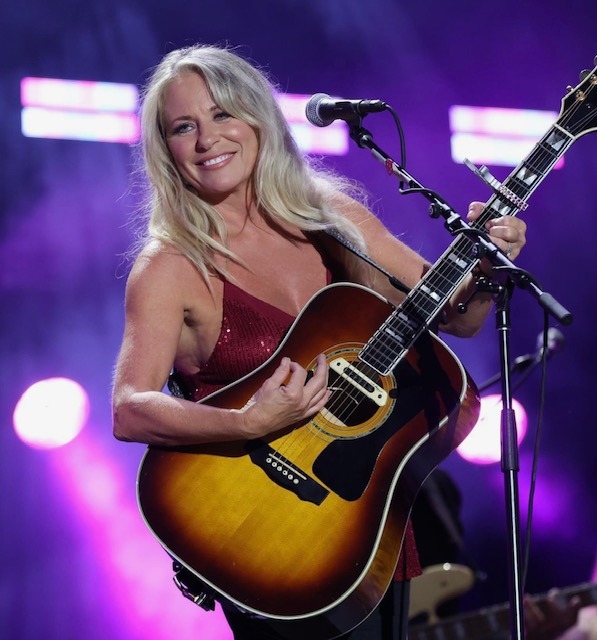 Deana Carter
Performing Live
5. I started following your career before social media. How do you feel social media has helped you connect with your fans in a way you can't on the road? I like social media to help with awareness & connection, but I love to also include more personal/personable content so people can get a better sense of my personality & interests.
6. I love that two of your idols are Dolly Parton & Olivia Newton-John.
Do you have any backstage stories you can share about working with Dolly Parton when you recorded "Love Is Like a Butterfly" together? Dolly is one of the most talented singers I have ever heard or worked with. She is also so down to earth, yet wants to always do a great job. She was amazing & it was an honor to work with her!
If you could have sung a duet with Olivia, which song of hers or yours would you have liked to record? Olivia would have been an honor to have sung anything from her Clearly Love album, which is the one I had as a young girl…. along with "Have You Never Been Mellow," "Please Mr. Please," "Sam" & "I Honestly Love You."
For these last few questions, I would love to play with the titles of some of your song titles.
7. How do you get through challenging times & move "To The Other Side"? Challenging times are always met with extra prayer, quiet walks (more prayer), diet & exercise, early to bed & close family & friends.
8. When was the last time you said to yourself "Did I Shave My Legs For This?" Today! (…and most days….hahaha).
9. What is one characteristic about yourself that makes you say "That's Just Me"? That I apply Bible verses to daily circumstances. This helps me try to focus on the right direction. I fail regularly, so I try to remember more & more of them. :-)
10. "There's No Limit" to what you can do. What is something you haven't done yet, that you would still like to do?
a) I have yet to have a full homestead like my grandparents had. I would love to do that….canning, gardening, baking, seed saving, living off the land..the whole thing!
b) I would also like to go to Alaska, since it's the only state I haven't been to
c) I would love to tour Israel, Greece…all the Holy lands in the Bible
d) Become an Opry Member
11. When do you feel there have been "Angels Working Overtime" for you? Daily!
12. What would you tell your younger self, "I Know Better"? I would not do some things I thought were a good idea or just didn't think fully through in my younger days. I would also say THANK YOU a LOT more & slow down to enjoy the moments along the way.
13. What is something about "The Story of My Life" that you have not talked about in a previous interview, that you can share with me today? The real story is that when I was younger I thought I knew 'older' & now that I'm older, I really know 'younger'. So, isn't that everyone's story? :-)
Mainly, leave the regrets behind, spread grace, make changes where you can & be grateful for every day that God provides. BUT….ALWAYS TELL THE TRUTH.
And….help someone else along the way!
Deana Carter
More on Deana Carter:
Drenched in sun-kissed natural beauty both inside and out, Nashville native, Deana Carter, didn't take a seemingly easy route to stardom, but instead chose to defy the conventional expectations of the typical Nashville artist blueprint and make her own mark. And she did, undeniably taking the industry and fans by storm with her wildly successful multi-platinum international debut Did I Shave My Legs For This? more than two decades ago. Anchored by the dreamy super hit "Strawberry Wine," Deana showcased her own blend of country and retro-rock sprinkled with the folksy singer/songwriter qualities that have garnered Deana Carter well deserved respect and wild acclaim.
With EIGHT albums under her belt, Deana explores many subjects commonly shared over a quaint dinner, afternoon coffee or a sunny day hike with a good friend. Her last release of Southern Way of Life was her first dive as Label CEO on her own Little Nugget Records, distributed by Sony/Red. These songs weave through the sometimes rocky terrain of adulthood, including loss of love, relationships on many different levels, trials, tribulations and simply put – life. As always, instinctively autobiographical, the subject matter mimics the interesting ride of Deana's own life – so far.
The daughter of famed studio guitarist and producer Fred Carter, Jr., Deana grew up exposed to the wide variety of musicians her father worked with, including Willie Nelson, Bob Dylan, Waylon Jennings, Simon & Garfunkel, Muddy Waters, Dolly Parton, and many more. Their strong influence would eventually seep into Deana's own country-pop style, which reflects qualities that can also be heard in similar artists now, such as Miranda Lambert and reflective of artists like Sheryl Crow.