Call Answered: Kyle Richardson Interview: LGBTQIA+ Singer & Songwriter, Louder Than Words
Aug 19, 2023
Kyle Richardson is a LGBTQIA+ singer/songwriter, who after a four year hiatus, is making music again! Ahead of his debut album, Louder Than Words, Kyle has already released the first two singles, "Can You Hear Me" & "Anything."
In this interview, Kyle answered my call to reveal:
Why he took a four year hiatus from music
What made now the right time to come back
His creative process behind making this new album
Everyday facts about himself
So much more
Kyle's album Louder Than Words will be released this Fall.
The first two singles, "Can You Hear Me" & "Anything" are available to download/stream on all digital platforms.
Connect with Kyle: Website, Facebook, Instagram
1. Who or what inspired you to become a singer/songwriter? I originally was inspired by singers like Stevie Wonder who has insane vocals and is such an incredible songwriter, too. I later got really into John Mayer and Gavin DeGraw who both have really distinctive voices, and write and play awesome music that I really love.
2. You are getting ready to release your debut album, Louder Than Words, this fall. Why do you feel someone should stream and download this album? I think the album is a really positive, uplifting, and melodic body of work. There are a variety of sounds and influences, from pop to rock, soul, and tender piano ballads. The songs are all really vocals-based, and I made sure that they each had a positive or hopeful message. So, I really think there's something for everyone on the album even though overall it makes a cohesive listen.
3. How did you come up with the title for this album & what does it mean to you? The album is named after a song on the album, "Louder Than Words", which is a really emotional, powerful ballad about love being the most important thing. I feel like a lot of the time, especially in relationships, people can talk the talk, but can't really follow through with their actions. So, this song is about love being the most powerful element, and that if you act out of love it can take you further than any words could.
Kyle Richardson, "Anything" music video, Photo Credit: Jeremy Sobocan
4. This album & the two singles you have dropped thus far from, "Can You Hear Me" & your newest single "Anything," come after a 4-year hiatus from releasing music. What made now the right time to come back? It has been too long! I'm so happy to finally be back in the swing of things and putting out my music. I was feeling a bit restless and really needed to start putting out music on a regular basis to satiate my artistic need to create and release music. I finally had the full album finished, and all the visual aspects in place so I'm ready to go full force with this album rollout!
5. What made you go on a hiatus in the first place? The hiatus was brought on by the global pandemic! I was honestly just about to start rolling out the album in the spring of 2020 and then all the lockdowns and the time off work came along and put an indefinite delay on things. Prior to the pandemic, I had taken a bit of a break to redefine myself artistically and take my time crafting the album I wanted to put out, and released an original Christmas song to ease into my return to music. Then the full return got delayed a bit.
6. How did the time away help you? The time away resulted in a new song which is the next single "Fight The Good Fight", and it allowed me to get all the visuals done, and to save up a bit of a promo budget so I could really push the songs to a wider audience! I got four music videos finished, and artwork done for all four singles and the full album. I even spent some additional time in the studio and recorded acoustic versions of every song on the album, so I have even more resources to use to promote this material and I'm so excited to share all this with listeners!
Kyle Richardson, Photo Credit: Jeremy Sobocan
7. The first single off your debut album is called "Can You Hear Me." As a member of the LGBTQIA+ community, what is your message or voice that you want to bring to the world? I just want to bring a message of inclusiveness and openness to my music. I think it's important as a member of the LGBTQIA+ community to encourage other people to be themselves, to live loud and not shy away from being the best version of themselves. "Can You Hear Me" was a really important song to me about being yourself and not taking any moment for granted!
8. Your newest single, "Anything," is all about kindness and gratitude. What are you most grateful for these days? Lately I've been grateful for the chance to really push myself as an artist and get on track with releasing my material to the public. It's been a long time coming and I've been wanting to put out an album for my entire life, so the fact that it's happening, and very soon, is so exciting to me and I'm so grateful that this is the year it's all happening!
9. If you weren't working in the music industry, what career path do you think you would be on? I'm not 100% sure. I've worked in nightlife in some capacity for many years now, as a means of making a good living while keeping my daytimes free for studio sessions and writing sessions…but I don't know if I'd do that if I didn't have music as a main end-goal. I think I might have tried to go into some other form of writing as I do like the written word. Maybe I'd write music reviews – haha!
10. What is something we didn't get to talk about that you'd like my readers to know about you? Something I didn't really talk about is how excited I am to make MORE new music. I seriously love all genres and I'm so excited to start working on follow-up music to the album…I want to play around in different genres and mix pop elements in, I hope to have a pretty diverse but pop-adjacent catalogue going forward!
Bonus Questions:
If you could be any flavor lifesaver, which color/flavor would you be? Pineapple…it's sweet...And the color is really light and I'm incredibly pale so it fits.
What superpower do you wish you had? I wish I had super speed just so I could get everything done faster! Also would burn SO many calories!
Coffee or Tea & how do you take it? I like both, but I prefer a nice tea with milk and honey.
If you could dream about anyone while you sleep, who would it be? I honestly don't remember my dreams all of the time…If I could dream of someone and remember it, I hope it'd be something like me on a huge stage singing with one of my idols – haha.
Boxers or Briefs? Boxer-briefs!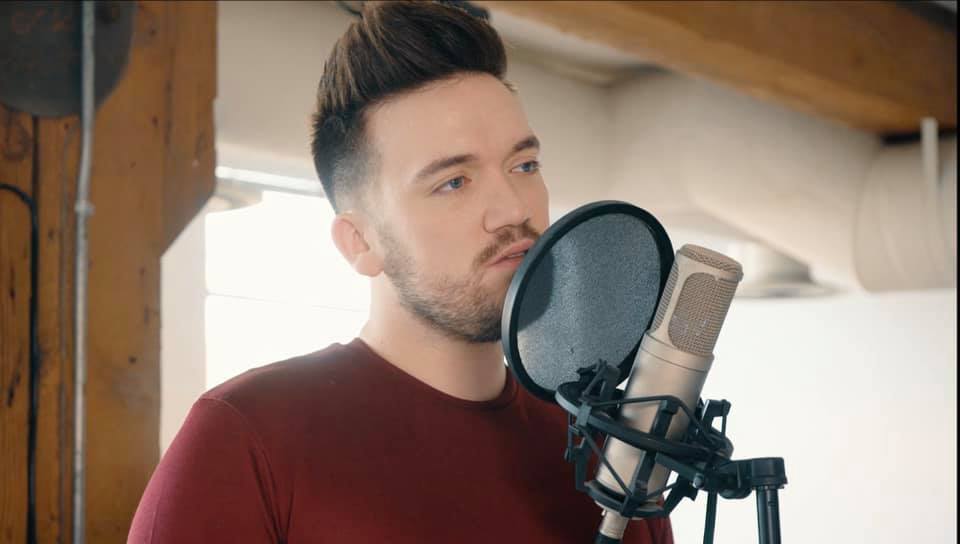 Kyle Richardson recording music
More on Kyle Richardson:
Born in Vancouver, Kyle grew up in Vernon, British Columbia, where he took an initial liking to the sweet sounds of Stevie Wonder and later found himself drawn to the emotion-heavy pop songwriting of John Mayer, Colbie Caillat, and John Legend. While taking his first steps as a songwriter in high school, he excelled as a vocalist in several local talent contests, including Funtastics Battle of the Bands and was the second runner-up in Okanagan Star Search.
As a young adult, Kyle returned to Vancouver in 2011 to develop his sound further and follow his career ambitions. He soon found a mentor in Grammy-nominated writer-producer Jeff Dawson (Daniel Powter, State of Shock, Kelly Rowland), who has been a trusted collaborator ever since.
Kyle's first slate of singles – "Bleed Forever", "Pain Killer" and "So Hot It Hurts" – introduced him to listeners through Canadian radio play and sync placements on the likes of Degrassi: The Next Generation and The LA Complex.
On his way to finding his own distinct sound, Kyle has gained recognition in additional music industry corners. As a featured vocalist, he performed with Will K and Gazzo in 2014 on "Forth and Back", and for Bobina's "Love is the Answer" in 2016, which has gained over 1.5 million Spotify streams. As a songwriter, Carly Rae Jepsen, Andrew Allen, DYLN, Laurell, and Garrett Neiles are among his credits. A proud member of Vancouver's LGBTQIA+ music community, Kyle has become a loyal Pride performer at related events – highlighted most recently through a show at New West Pride in 2019.
After an industry hiatus to reassess his sound and purpose, Kyle reconnected with Jeff Dawson to win the LG 104.3's vanCOVER contest for covering Queen's "Another One Bites the Dust" – and the two teamed up on the well-liked 2019 single, "Christmas Time This Year" while laying the groundwork for an album.
After the solitude of the pandemic, Kyle has re-emerged as a seasoned songwriter and crafty pop vocalist. Having released two singles so far in 2023 – "Can You Hear Me" and his newest offering, "Anything" – Kyle is poised to unleash his debut album, Louder Than Words, in the fall and leave a lasting message of positivity through the exuberance of creating the music that he loves.