Call Redialed: NEW Jesse Luttrell Interview: 40th Birthday Concert at The Triad Theater
Feb 15, 2023
In a wonderful turn of events, Actor, Dancer and Singer Jesse Luttrell called ME to see if I would interview him for his upcoming 40th Birthday Concert.
I was delighted to once again spotlight this brilliant performer & all around nice guy!
Jesse has not been seen on a New York City concert stage in over three years.
Touted as his "comeback" concert, Jesse Luttrell's ONE NIGHT ONLY 40th Birthday Concert will showcase Jesse's maturity & growth as a performer as he interprets songs made famous by the likes of Barry Manilow, Elvis Presley, Tom Jones, Frank Sinatra, The Beatles, Jule Styne, and more.
In this interview, Jesse reveals:
Jesse's return to the New York stage

Turning 40

Best Advice

Boundaries Jesse puts up when preparing for a show

How Jesse decompresses after a show

Future Projects
Along with legendary maestro Fred Barton (Forbidden Broadway, Cabaret, City of Angels, NY Pops), Jesse's 40th Birthday Concert will play at The Triad Theater on Saturday, February 25 at 9:30pm.
Connect more with Jesse: Website, Instagram
Photo Credit: Christopher Boudewyns
1. On February 25, you & Fred Barton are returning to the Triad Theater for the 1st time in 10 years. What made now the right time to return to this venue for your 40th Birthday? The Triad Theater was my creative home for the beginnings of my "nightclub" career. I brought together the cabaret, burlesque, broadway, and comedy communities in a monthly vaudeville-style variety show that started as a benefit for Marriage Equality.
We ran the show for 6 years and it was a lot of work, but it accomplished two things for me - I learned how to cut my teeth performing for an audience in a nightclub setting (as opposed to hiding behind a character in a musical), and I gained a following of loyal friends, fans, and collaborators that continue to show up for me to this day.
As far as my solo act goes, after a few years of sell out shows at 54 Below and venues around the world I wanted to put together a brand new show - a show that's grown up like I have since my early days doing BAWDY. I figured THE TRIAD was the perfect place to "start over." And the owner, Peter Martin, has always been extremely supportive and accommodating throughout the years.
2. You have teased this show as your comeback concert. Why do you feel this is a comeback for you? Well it's been over 3 years since a New York audience has seen me do anything. Before the pandemic hit I had started to play roles in musicals again and I was touring my solo act out of town. As you know it is next to impossible for a nightclub act to make money in New York City, so if you're looking to do it professionally you have to bring the show out of town where you get paid to do it. I realized that people don't really know who I am anymore because I've been "gone" for so long. I've grown up in a lot of ways and this is the chance for people to catch up with me and share a huge birthday milestone with me.
3. At this concert you will be performing hits made famous by Barry Manilow, Elvis Presley, Tom Jones, Frank Sinatra, The Beatles, Jule Styne, and more. What made you choose some of the specific songs by these artists that you will be performing? When I pick new material I always look for an underlying message in the song that not only speaks to me personally, but has a subliminal and universal appeal to the audience.
When I put together the previous act I had been touring with for years, I was making the awkward transition from 27 year old singing-dancing-showman to rakish leading man - which was kind of like that awkward stage when you're growing your hair out - so I started thinking about the songs/themes/artists that could be inhabited by this new rakish archetype - and that could also subliminally inhabit the times we're living in (even though they're songs from the past). For some reason this involved a good number of songs/artists from the late 70's - though I tend to steer clear of "tribute" shows.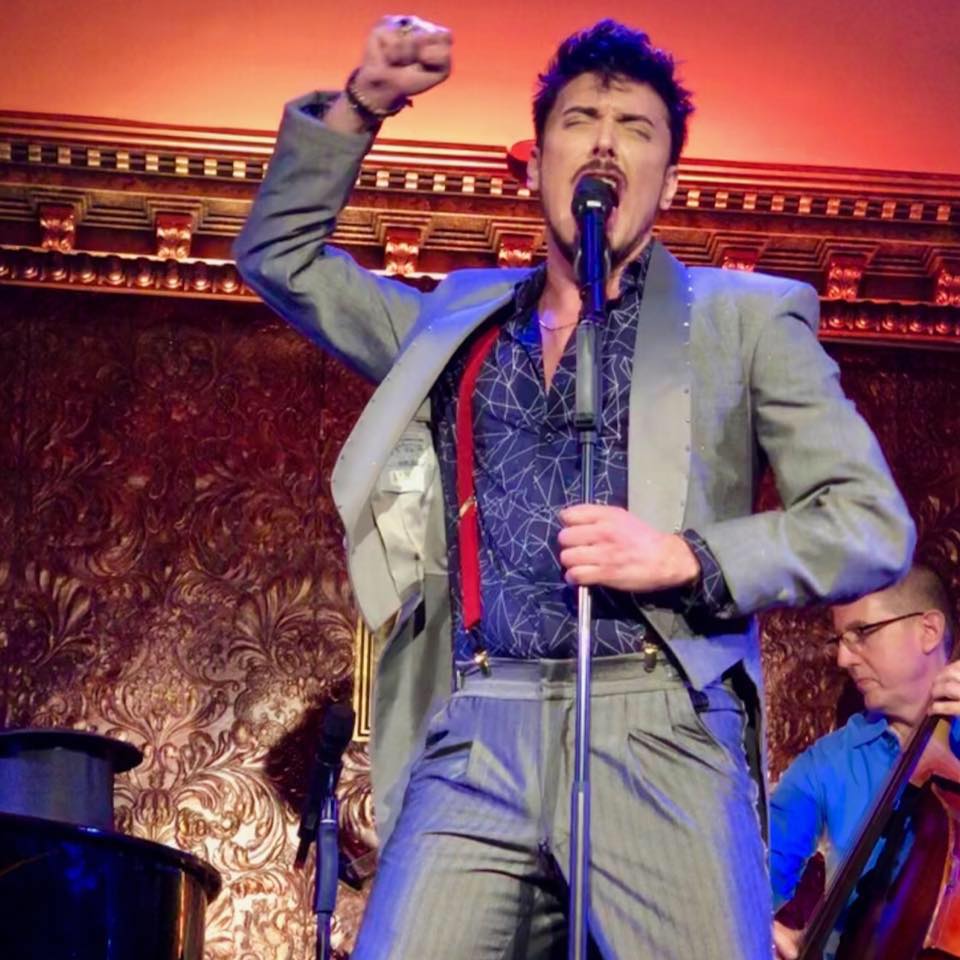 Jesse Luttrell performing at 54 Below
4. Since the show is celebrating your 40th Birthday, how do you feel your performance has changed from when you were in your 20s or 30s? Well I've grown up. I worry less about what I "come off as" and just allow myself to experience the scene of the song - and allow the audience to join the experience. I'll always have the frenetic energy I'm known for - buzzing under everything I do - but I think I've learned to harness it better. It's a hard thing to do.
We were all told in our conservatories "you're doing too much" or "you're doing too little", and often we had teachers who didn't know how to get us to where we needed to be; so they'd only tell us what "not" to do - which is the most ineffective thing any director or teacher can say to anybody.
We go on stage to "do" something, we don't go on stage to "not do" something. Now that I'm older I've thrown all that crap out the window and just do what lights me (and the audience) up. It's the only way to be truly authentic and fully alive on stage without being self-conscious.
5. What is the biggest lesson you have learned that you are excited to bring with you into this new decade? Be true to yourself. Don't kiss ass. Don't make small talk. Don't trade stupid pleasantries just to placate people. The kind of people you want around you will respect you for being true to yourself. Anyone else isn't worth giving your time to - they're energy vampires. And just to get some Sondheim ideology in here - Don't be nice. Be Good. (because 'Nice is different than Good')
6. When you are putting a concert together, what kind of boundaries do you put up to help you stay focused? For example, do you not go out as much? Do you watch less TV? Well I'm definitely not the party animal I was in my 20's - when I put together a show I go into complete lockdown - hit the gym daily, yoga daily, daily singing exercises, daily work on the material. The same holds true for when I prepare for a role.
I'm a huge nerd about preparation because I struggle with severe ADHD and I have to prepare more than neurotypical people do. One thing that really clicked for me was something one of my Stella Adler teachers told me (which comes directly from Stella herself).
While working on your preparation you have to talk out everything you're thinking and doing underneath the text - all subtext, actions, images - talk it out, free associate - and however you talk it out is how you're going to DO it - so you can't just state your preparation like a grocery list - you have to experience it as you're talking it out. Preparation is everything.
7. How do you decompress after a concert? Because I put 120 percent into everything - I suffer the most devastating post show crashes..so I make sure to make plans with friends, give myself down time, and obviously have a few drinks with everyone after the show. I also like to go see other peoples' shows to distract myself from my own stuff.
8. What are some other projects you have coming up that you can talk about? I'm revisiting two of my favorite roles this summer - neither company has announced casting yet, but I CAN tell you one of the roles is the Pharaoh in a production of Joseph and the Amazing Technicolor Dreamcoat. I've also been interviewing with talent agents and will be making a decision which one to sign with this week - which is exciting.
9. What is something that we didn't get to talk about in this interview that you'd like my readers to know about you? As I'm answering these questions it's Valentine's Day so - I'm single, I'm a pisces, I like long walks on the beach - lol jk.
I want people to know that though I'm a loudmouth opinionated Italian boombotz, I'm also STUPIDLY optimistic about our future. There's nothing more fascinating than the human condition - especially when we've been through some shit. I can't wait to see where we'll all be and what we're gonna be like 10 years from now (when I'll be half a century old...oy!)
Jesse Luttrell, Photo Credit: Gene Reed
More on Jesse Luttrell:
Hailed as "dazzling" by legendary Village Voice columnist Michael Musto, Jesse's favorite roles include Frank-N-Furter in Rocky Horror, Pharaoh in Joseph and the Amazing Technicolor Dreamcoat, Munkustrap and Rum Tum Tugger in Cats, Emcee in Cabaret, and Bill Sikes in Oliver! He's played Gaston in Beauty and the Beast multiple times and has also enjoyed an international concert career.
"Jesse was born in a trunk…" in a thunderous, but velvety voice Judy Garland explodes into the iconic Born in a Trunk film sequence in A STAR IS BORN. She reverently sings of being born into a showbiz family and traveling from town to town since she was a young child. She has known no other life both in the film as Ester Blodgett and in her own reality as Baby Frances Gumm: the daughter of vaudevillians who thrust her into the vaudeville circuit as an infant.

And thus, there in glorious technicolor, showbiz called to him. Though he wasn't born into a showbiz family, Jesse moved around the country 7 times before leaving his rural Pennsylvania high school at 16 to start his professional career in the stage adaptation of the Judy Garland movie MEET ME IN ST LOUIS. And it was there, in the VCR of the cast housing of that show (where director Walter Willison accidentally left his VHS of A Star is Born), that Jesse was introduced to the Born in a Trunk sequence: A masterclass in the glitter, the glamor, and the glorious gutter of a life in showbusiness.
There weren't many opportunities to see theatre (let alone train for it) in the extremely conservative, religious town where he went to high school. It's a part of the country we lovingly referred to as "Pennsyltucky." There were 5 churches on Jesse's street alone; and no theatres. From thrift stores and garage sales he soaked up every record, cast album, and page of sheet music he could find. At school Jesse reveled in every story that the more privileged kids told about the Broadway shows they got to see: "and then the chandelier fell over the audience!"

Yes, Jesse was The Phantom of the Opera for three Halloweens in a row before ever seeing the show.

When it came time to audition for theatre conservatories Jesse had a few years of piano lessons, a few months of dance classes, and about 8 voice lessons under his belt - but he was scrappy and hungry, so he did the work and ended up getting a scholarship to attend The University of the Arts in Philadelphia.
When Jesse got to school he saw how different he was from the other students and struggled with undiagnosed ADHD. Jesse had a hard time learning and retaining the details of his work and his acting teachers scolded him about "staying in the moment." It's hard to stay in the moment when your brain is processing every possible moment at once. Jesse started to excel in Ballet because he had the physical facility for it and the structure of class forced his brain to focus on the task at hand. Jesse left The University of the Arts and began classes at the prestigious and competitive Rock School of the Pennsylvania Ballet on full scholarship.
Ever the wanderlusty itinerant, Jesse bounced from Ballet program to Ballet program until he found himself surfing couches in New York City and circling auditions in the Backstage newspaper. There he was - standing in the heart of it - finally doing theatre again. Jesse spent his 20's as the most unfocused, but focus-pulling chorus dancer in regional productions and tours of Peter Pan, CATS, Evita, Oklahoma, 42nd Street, West Side Story, Carousel, and many others. Jesse learned a lot in the chorus - mostly respect for all of the other dancers who were much more focused than he was. As Carol Burnett once said: "I wasn't good enough for the chorus."
Now with the focus, discipline, and technical spine Jesse lacked in his 20's, he's been lucky enough to play some very diverse and challenging characters. Classes in Meisner, Practical Aesthetics, Stella Adler, Uta Hagen, Lecoq, and Laban fed his insatiable need to make up for his lost time in conservatory. It wasn't until Jesse stumbled on the work of Stanislavki's prized pupil Michael Chekhov that he realized his ultimate quest as an actor: to transform both himself and the audience.
Not many make money doing theatre and very few become 'famous.' So what other reason to do it than to bamboozle, challenge, and ultimately inspire an audience? This is the mantra and the work that has given Jesse the capacity and joy to play larger-than-life roles like Frank-n-Furter in Rocky Horror, Munkstrap and Rum Tum Tugger in CATS, Emcee in Cabaret, Bill Sikes in Oliver, Pharaoh in Joseph...
and Gaston in Beauty and the Beast.
At the ripe young age of *muffled dialogue* Jesse's already lived four lives (as an itinerant kid, ballet dancer, ensemble hoofer, Actor) - and he feel as if his journey has just begun. The greatest actors learn from their life experience and from every role that they devour. Jesse's excited to continue adding to his arsenal, to continue learning, and to continue enlivening audiences around the globe. Who knows? There might be another anxious itinerant kid out there in the dark auditorium looking for the spark that Theatre gave me so many years ago.

All he needs is the inspiration and the hunger to go for it…just make sure to move the piano to the right spike mark...